Described as 'the jewel of the Kalahari', the Okavango Delta – a tranquil and isolated oasis set in the harsh and arid surroundings of Botswana's bush and desert – is widely regarded as one of Africa's best safari destinations, with its rich diversity of fauna and flora.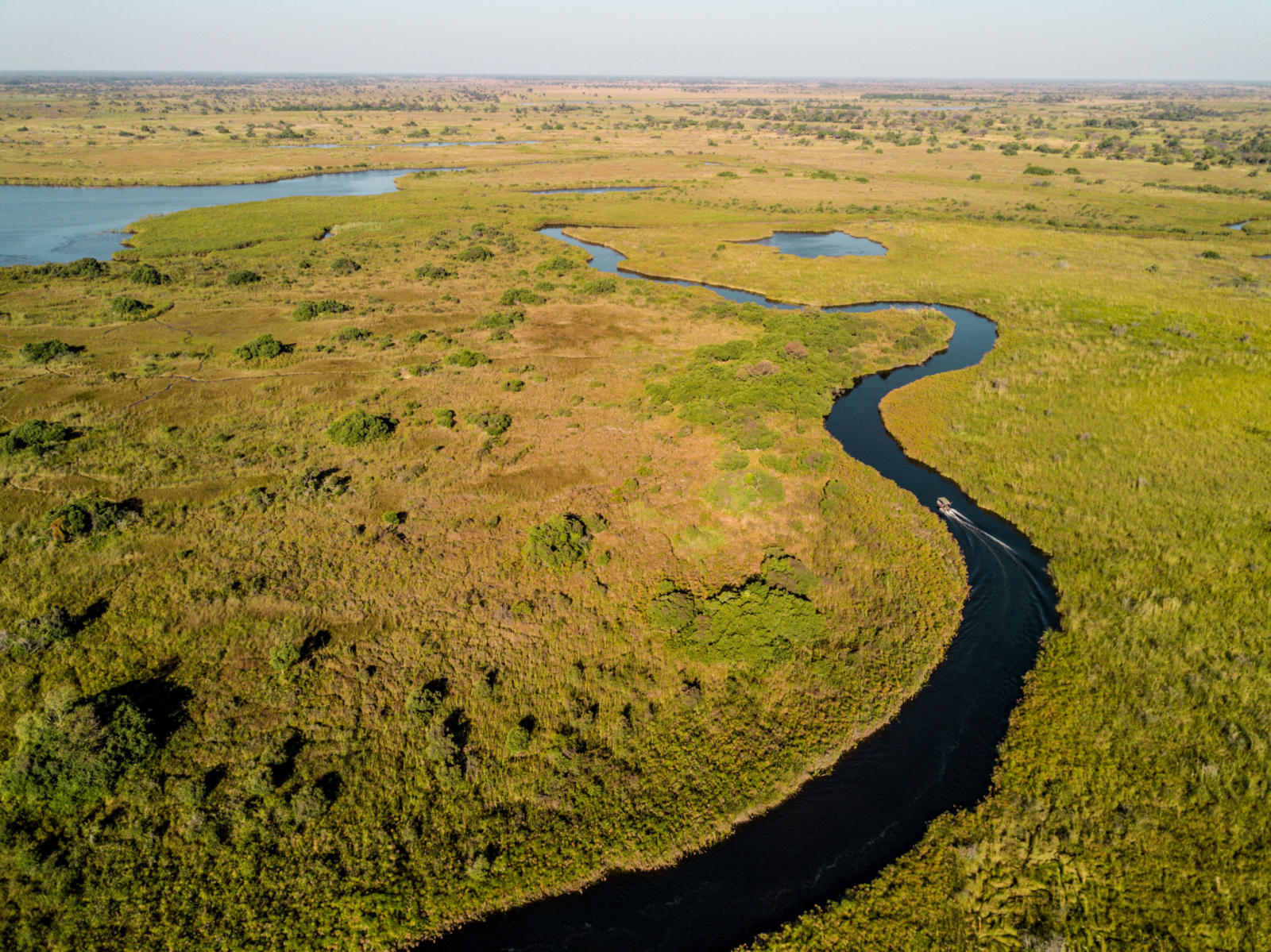 The Jewel of the Kalahari
The Okavango Delta is one of the world's largest inland water systems. It rises in Angola's western highlands, then flows through northern Namibia and finally enters Botswana, where it is called the Okavango. Seen from space as an emerald swirl surrounded by a parched landscape, the delta is a miraculous source of life in a country that is 80% arid.
The delta's floods are fed by the Angolan rains, which start in October. The floods cross the border between Namibia and Botswana at Mohembo in December and reach Maun only in July. The Okavango River never reaches the sea, but flows south-eastwards into the Kalahari. Here it spreads out into a delta formation – a lush water-wilderness of papyrus swamps, shallow reed-beds and floodplains, dotted with islands and laced with a network of channels and lagoons.
The annual seasonal flooding of the delta occurs during July and August, which is a few months after the peak levels at Mohembo. It takes approximately four months to filter through the Delta from Mohembo to Maun. The reasons for this slow meandering pace of the flood are the very gradual drop in elevation – little more than 60 metres over a distance of 450 kilometres – and the dense vegetation, which slows down the movement of the water. A lot of the water is lost to groundwater re-charge as well as evaporation. During the peak of the flooding the delta's area can expand to over 16 000 km², shrinking to less than 9000 km² in the low period. As the water travels through the delta, the wildlife starts to move back into the region.
The Okavango Delta is home to more than 140 000 people, 50% of whom live in villages with fewer than 500 inhabitants, living off the goods and services the delta provides. Their livelihoods are closely interwoven with the diversity of natural resources.
As the Okavango Delta always has a certain amount of water, water-based activities are on offer at many of the safari camps situated there. A mokoro safari is a definite 'must do' for all guests visiting the Okavango Delta – a dugout canoe poled along by your guide is a favourite method of exploring the waterways. Motor-boats operate on the main waterways and lagoons. Traditional 4×4 game-viewing vehicles are used on the main island. Walking safaris are very popular in the Delta – the feeling of being on foot in Africa's wilderness, exploring the flora and fauna, is a remarkable experience – perhaps the most exciting way of viewing game – stalking and tracking wildlife with an expert guide.
.